5TH ANNUAL MOUNTAIN EMPIRE MEN'S Fellowship
2020 Mountain Empire Men's Fellowship (virtual edition): Tuesday Evenings In August
For the past four years the Central Church of Christ has hosted the Mountain Empire Men's Fellowship. Modeled after the Carolina Men's Fellowship in South Carolina, we have aimed to bring together Christian men from throughout the region for edification, singing, and fellowship.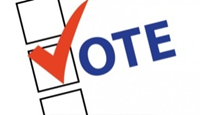 Our plans for the Fifth Annual Men's Fellowship have been altered – but not derailed – by the COVID-19 virus. The in-person aspect of our gathering will not happen, but we can still benefit from the devoted work of some of the speakers who had already agreed to participate this year.
On the four Tuesday evenings in August an hour-long session of our Fellowship will debut on Central's YouTube channel (which you can find at this link). Each Tuesday evening session will feature two sound and effective gospel preachers speaking on topics that are vital for our day. The word of God will be the basis of their discussions.

The theme of this year's Fellowship will be "God For President!" In an election year our hopes are regularly raised for answers to our nation's problems and capable leaders who will lead us through them. Every time we are reminded that our leaders are mortal; they can only do so much.
God, however, can give us the help we need without fail. Proverbs 3:5,6 clearly presents His offer: "Trust in the Lord with all your heart, and do not lean on your own understanding. In all your ways acknowledge Him, and He will make straight your paths."
This is your invitation to "attend" the 2020 Fellowship. We hope you can join us online on the evenings these sessions are launched. If you can't join us then, each session will be archived for your viewing whenever it is convenient. We hope you will share this invitation with others. And one bonus of this virtual event is that women are welcome to join us, too!
The Schedule: (all sessions to air on Central's YouTube channel)
Tuesday, August 4, 7:00 p.m.
"God For President / In God We Trust", John DeBerry, Memphis, TN
"God's Economy", Keith Hovis, Lebanon, VA
Tuesday, August 11, 7:00 p.m.
"Second In Command", Bill Haywood, Abingdon, VA
"God's Platform", Blaine Kelly, Morristown, TN
Tuesday, August 18, 7:00 p.m.
"United We Stand", Dan Bailey, Bristol, VA
"Environmental Stewardship", Brett Pharr, Nashville, TN
Tuesday, August 25, 7:00 p.m.
            "Turbulent Times", Gary Massey, Chattanooga, TN
            "Rock-Solid Faith", Zack Krug, Banner Elk, NC