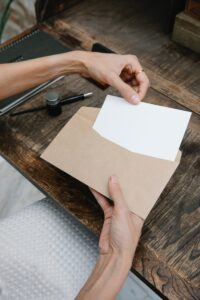 Are you interested in sending mail to those incarcerated?
That's wonderful! Below, you will find some guidelines to make this process as simple and smooth as possible.
A simple card means a lot, especially to those who have been separated from family and friends by incarceration. You don't have to say a lot; just taking time to contact them is the biggest message of Christian love.
Cards sent to Northeast Correctional Complex should be addressed in this way:
Inmate name, ID number
NECX
P.O. Box 5000
Mountain City, TN 37683-5000
Cards sent to the Johnson City Jail should be addressed in this way:
Inmate name, ID number
Johnson City Detention Center
601 E. Main Street
Johnson City, TN 37601
To Send Mail Safely To Inmates:
– Use a pen name instead of your actual name
– Use the church's mailing address for the return address
– Leave the envelope unsealed
– Bring the card to the church office for metered postage to be applied
The safeguards suggested are in place because of others who might see your mail. We won't ask you to write to someone we consider a risk to your safety.
Thank you for your thoughtfulness and love for those incarcerated!